SERVING THE GREATER PUGET SOUND AREA
COMMERCIAL & RESIDENTIAL SERVICES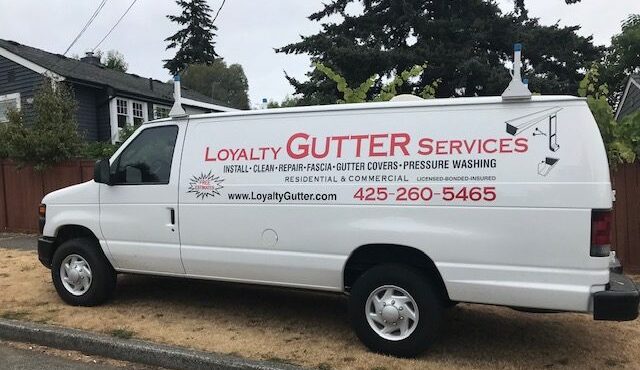 WE USE ONLY THE HIGHEST QUALITY GRADE MATERIALS
RAIN GUTTER INSTALLATIONS
RAIN GUTTER REPAIR & CLEANING
RAIN GUTTER CLEANING
RAIN BARRELS & RAIN CHAINS
DOWNSPOUT INSTALLATION & REPAIR
FASCIA INSTALLATION & REPAIR
ROOF FLASHING & SOFFIT REPAIR
MOSS TREATMENT
PRESSURE WASHING
THE BEST RAIN GUTTER SERVICE IN THE PUGET SOUND AREA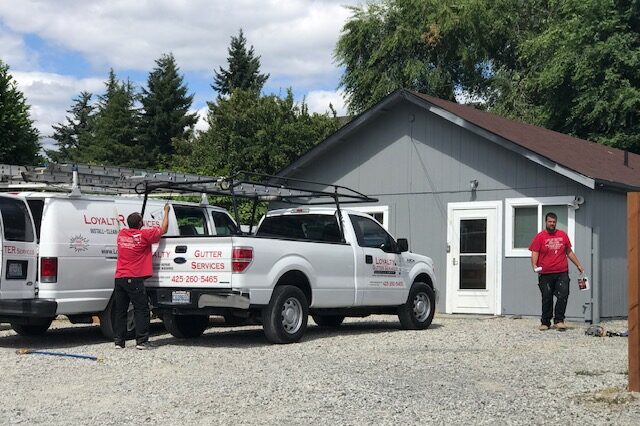 REVIEW OUR REVIEWS
We are highly recommended on Angie's List and Yelp!
Justin F.
December 13, 2020.
Although a bit hard to get a hold of directly, (left some voicemails and played a bit of phone tag) Kevie was responsive overall and was able to schedule me for a gutter replacement.  Price was excellent for removal and disposal of the old gutters and install of new matching gutters on the second floor.  The crew that came by were punctual and got the job done in a couple hours.  Gutters were still working well when I moved out.
Steve G.
September 28, 2020.
These guys stand behind their work! A couple of years ago, I had them repair and adjust a gutter that was leaking and not draining as it should. This year, the same gutter started to leak again, so I called them up to get an estimate to fix it. Cliff, the estimator, came over and quoted a reasonable price, so I agreed to have him do the job on the spot. Later he told me that since the previous repair wasn't done properly, he wouldn't charge me for it! That kind of honesty and integrity is not easy to find these days. For that reason, I highly recommend Loyalty Gutter to anyone who needs gutter service.
I just had new gutters, downspouts, filters and clean out boxes installed by Loyalty Gutter Services.  I am extremely happy with the service and product.  And the cost was much more reasonable than LeafGuard.  Highly recommend!
I have to qualify this review because I didn't receive gutter service, but I needed advice on gutter sealant (small leak in a corner joint) and of all the gutter companies I contacted, Kevie was the only one who went above-and-beyond to help me.  He told me where his crew would be locally so I met with them and bought a tube of sealant.  This is what I call "customer service" and I wasn't even a customer of Kevie's at that point.  If their gutter service is anything like the way I was treated then they are worth a call.
Mark A.
November 26, 2019.
Kevie returned my call promptly. I needed to set up a gutter cleaning and inspection at my moms home. Kevie arranged his schedule to accommodate my desire to be present for the job. The crew arrived on time and were both polite and professional. They made an assessment of the cleaning job and need to seal 9 leaking joints on the gutter system. We agreed to terms and the crew efficiently carried out the job while working carefully on mom's tile roof. Kevie and the crew of Loyalty Gutter Services took the stress out of getting my mom's home ready for winter. I will be calling again.
It is harder and harder in King County to find good people who do good work at a good rate, and damn near impossible to get that on a reasonable timeline. Most people I called were talking about scheduling out 4 months, and I just finished getting a building remodeled and that kind of wait would've been tough. Kevie came out to do a quote in less than a week, and had everything installed and done less than a week after quoting me a very fair price. The whole system is beautiful, hooked up exactly as I'd hoped, and the under side of these gutters are dry as a desert. It feels too good to be true to get such good work at a good, honest price, on such a good timeline, but the truth is, his crew works hard to get to everyone and get it done. I just have too many good things to say to fit here. Just to note, I'm in Renton, and being from here, it feels great to work with a local dude and support someone who clearly takes pride in their work. As long as Kevie is doing this, I won't even try to call another person for any of my future needs. Perfect from the first call to the last one on this project.
Kevie was extremely pleasant to work with for this project. Not only did he complete the job at a very reasonable price compared to his competitors but he was honest, communicated clearly and was  friendly and professional during every interaction we had with him as was his crew. The job was completed on the day they said they would and the finished product looks great! I appreciated that he explained pros and cons of aspects of the job without trying to up-sell me. He also provided small customer service gestures that are so appreciated such as giving us touch up products in case the gutters become damaged or scratched and offering to come back with no extra charge to redo the end of the downspouts when we finish our yard drainage system. Thank you guys for being so great!
I did my research on Yelp before calling a couple of companies for quotes for new seamless gutters. When I called Kevie (pronounced: Key-vee), I got his voicemail and left my details. He returned my call that evening and said he'd come by the next day. Early the next morning, my dog alerted me to check outside, and sure enough Kevie was about to get in his van to leave. I ran outside to greet him and he said he was all done and that he had already walked around the house and got measurements. He didn't waste anytime and I got the quote later that afternoon. The price was what I was hoping it would be - extremely reasonable and almost too good to be true. I agreed and we scheduled it for a week out. When his 2 man crew showed up they were courteous and very accommodating as I have a torch down roof that needed some creative modifications to relocate the downspouts. They understood and went to work; it took half a day and when they were done, I was blown away. They redirected the water flow towards the downspouts better than I expected and it's going to alleviate a lot of future headaches with the improved system. I didn't ever think gutters could be sexy but dam these look good and better than I expected - no clean up afterwards too. This is my first Yep review... and since I found Kevie on Yelp... I thought it only appropriate that I sign-up and provide him the kudos his crew deserves.  They made my wife, the harshest critic of all, extremely pleased and proud of our home now... Bravo. And thank you.
Annette R.
April 14, 2019.
Great communication up to the day he said he was driving by my house to work up an estimate. Never heard a word again despite me calling them days later. I don't think they want your business bad enough to follow through.
Jane B.
February 22, 2019.
Great company! Kevie is the best. They did our house with all new gutters in a color that we love. Several years later when we had some damage done to the gutters with a neighbor's fallen tree and it was raining, they showed up promptly and checked it out. All was good so they could pick up the right color gutters and came back and install them the following week. Always ready to help you.
CONTACT LOYALTY GUTTER SERVICES
WE WOULD BE HAPPY TO ANSWER ANY QUESTIONS OR ADDRESS ANY COMMENTS